No more drilling & holes in walls!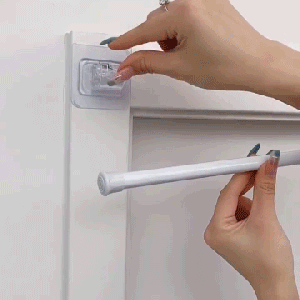 Customer Review
⭐⭐⭐⭐⭐
"Love love love the convenience. No holes to drill, easiest curtain brackets. Perfect for my travel trailer as well as my house." - Penny Harris
⭐⭐⭐⭐
"I need a cheap alternative to create a private space around my bed, my lounge and bedroom in one room. So these pole mounts glued to the ceiling are my best idea so far. And the cheapest..." - White Buffalo
⭐⭐⭐⭐⭐
"Totally LOVED this product. I had a door with a top window area that I needed to cover. Can't drill into aluminum door. So I bought these brackets. You MUST FOLLOW THE INSTRUCTIONS Exactly as package gives. Here is what I did!! 1. I cleaned the surface well. 2. Then dried it. 3. Adhered the brackets 4. MOST IMPORTANT!!!!! LET IT STAY AND ADHEAR TO THE PLACE FOR A MINIMUM OF 24 hours. 5. Now hang your curtain. Will buy it again for another door." - Rosendo

FEATURES
Seamless Installation
It requires no nails and drills, thus it won't cause damages to your walls or furniture.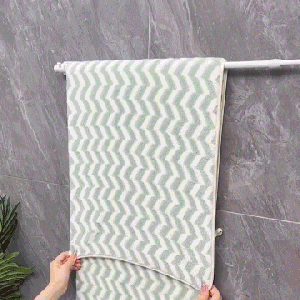 Adjustable Bracket
High flexibility and versatile for unlimited usage. Adjust these Drill-Free Curtain Holders to perfectly hang your curtain rod at any length.
Premium Quality
Water repellent, anti-rust and durable, it can be applied to, wood, steel, tiles and concretes.
Applicable Occasions
These drapery hooks are suitable for many clean and smooth surface, like glass, mirrors, tiles, marble, stainless steel and more, ideal for hanging net curtain, voile, party decoration, garden decoration or DIY crafts
Reminder:
Dear customers, the initial viscosity of the tape becomes weak in winter, and the temperature is below 10 degrees. It is recommended to warm the surface of the tape before use to restore the chemical molecules of the colloid to the normal operating state, which can achieve the best adhesion. Connection effect. (The ideal operating temperature of the tape: 20-40 degrees)

The method is as follows (the sticking surface should be kept clean):
1. Use a hot hair dryer to heat the surface of the colloid, the temperature should not be too high, go back and forth to warm, and the temperature of the hair dryer should be controlled at about 40-50 degrees.
2. Put the oven to heat, the temperature should be controlled between 30-40 degrees, keep 50% humidity, and the time should be controlled at 30-40 minutes.

SPECIFICATION
PACKAGE INCLUDES
Nail-free Curtain Hanging Rod Bracket (1 Set / 2 Pcs)