Goodbye garden or lawn intruder!!!
Successfully drive away snakes, gopher, vole, mice, birds, deer, skunk, wild boar, raccoons, rodents, bats, chipmunks, squirrels, hamsters, weasel, Pests, etc. Help crops and grass stay away from pesticides and animals.


LOW-FREQUENCY 3-4S SONIC PULSES FOR EVERY 30S
Used for driving away sensitive animals like snakes, bats, chipmunks, birds, deer, Raccoons, Rats, Rodents, Squirrels, Mice, Hamster, Gopher, Vole, Weasel, Pests, etc. (place in the hotel, garden, patio, villa, park, farm, paddy, orchard, etc.)
NATURAL SOLAR ENERGY
Naturally drives animals and pests out without killing them. Made of Solar panels, anti-UV and waterproof material, suitable for all weather conditions.
100% CHEMICAL FREE
No dead animals! Protect your home from unwanted animals without the use of dangerous and messy chemicals, pesticides, sprays, or traps that can harm you, your family, and your pets.
4-HOUR SOLAR CHARGE LASTS FOR 5 DAYS WORKING
No need to replace the battery.
HIGHLIGHTS
EMITS ULTRASONIC WAVES: Stimulates sonic waves religiously which an effective technique to drive away any uninvited nocturnal animals

POWERED BY SOLAR ENERGY: Works and charges the battery during the day and runs on battery at night.

WATERPROOF: Durable and cost-efficient. It works well in any weather condition.

EASY TO INSTALL AND USE: Simply set it up once and it will run by itself, no wires & low maintenance!

ENVIRONMENTALLY FRIENDLY: Functions without any toxic or harmful chemicals to deal with or pose danger to pets and humans.

HIGH-QUALITY MATERIALS: Made of sturdy materials, needs no frequent replacement and can save money.
Specifications



Solar Panel: 2V 55mA

Effective Range: 650 square meters

Frequency: 400Hz-1000Hz

Dimensions: 6cm x 22.5cm
HOW TO USE:

For optimal performance, we recommend that during the installation of the yard mole repeller be placed on every 45 feet on your lawn. Place it around your yard or farm.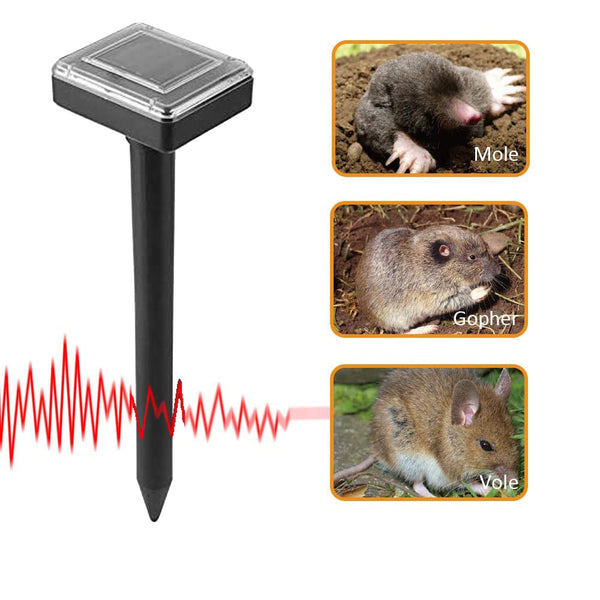 In general, it needs about 2-3 weeks to drive away from your garden, then your garden will be free of these nuisance critters after some weeks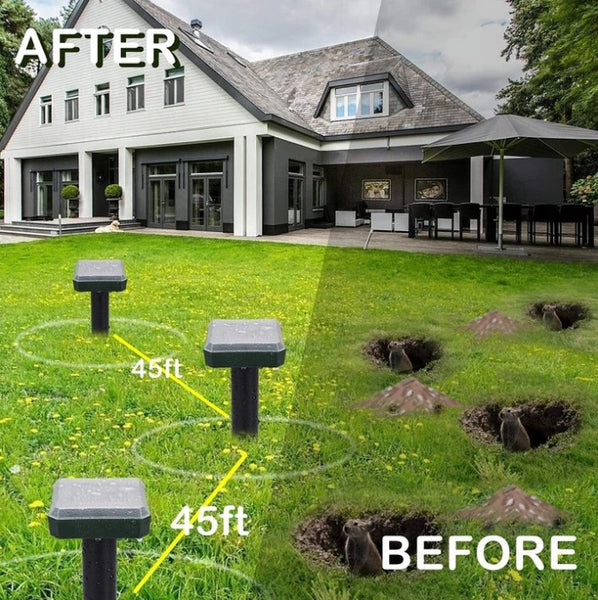 PRODUCT SPECIFICATION
Material/s: Plastic & Stainless Steel
Package Inclusion: 1 X Pest Rodent Repeller